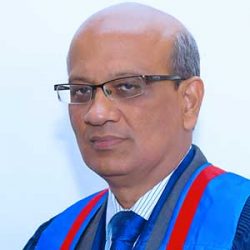 Professor T P Weerarathna
Professor in Medicine
Consultant Physician
Faculty of Medicine, University of Ruhuna
Dear Colleagues,
We are getting ready for this year's Annual academic sessions, SIMCON 2019 which will be held from 7th to 9th November 2019 at Hotel Amari, Galle. Highlighting the integrated service our members in the Internal Medicine provide bridging all sub specialities, we have selected the theme for this year as ''Fostering integrated health care- bridging boundaries''.
SIMCON 2019 would feature many renowned international and national speakers delivering plenary lectures and contributing as resource personnel in several symposia focussing on the role of internal medicine specialists in the fields of metabolic, tropical, geriatric, cardiovascular and respiratory medicine. There will also be an interactive session and a debate to exchange views among our membership on controversies and new developments pertaining to day to day clinical practice. Pre-congress workshop on stroke care conducted by overseas resource personnel would strengthen our skills in managing different aspects of stroke patients. Post congress workshops with hands on experience on literature search using PubMed and End Note software packages conducted by the experts in research methodology would benefit young members undertaking clinical research during their post graduate training. All these will be in addition to SIMCON oration and inauguration which would feature the cultural event and gala dinner on the opening day.
I invite our membership across the Island to get ready to patronize SIMCON by submitting their work by way of orations and scientific abstracts. We will make the first announcement on submission guidelines and deadlines soon.
I wish to make a sincere appeal to reserve these three days in your calendar to personally attend the SIMCON 2019 held in Galle to epitomize the strength and the solidarity of our young and vibrant association, SLCIM.
Thank You
TP Weerarathna
Professor in Medicine
President SLCIM 2019/20